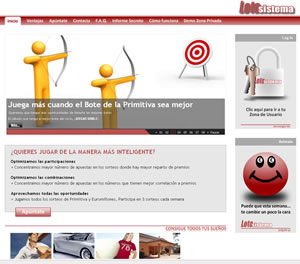 LotoSistema is a website that works as Spanish Primitiva Lottery and EuroMillions syndicate that works exclusively online (with no physical offices).
It has an innovative system of organizing syndicates that allows our customers:
– Playing in the most comfortable way. We generate bets, organize the rocks, send each customer a personalized email with betting playing before each draw, and another email with the achieved prizes after each draw.
– Playing in the most profitable way possible. Our system gives more weight to the numbers that have a higher correlation awards and employing a reduction to 5.No touch can make us more times, but we can do that when we touch, we touch more money.
– Organize joint rocks, with what we got: Play a large number of bets and keep the possibility of getting important awards (avoid the dilution effect typical of the rocks)
All, with an automated system that does it all.
– Controls the high new partners, and calculates the fees payable to webmasters who send us new partners.
– Generates debits for payment of shares.
– Generates bets required for each draw, and sends them to the Lottery Administration validate.
– Send emails to customers when the lottery tickets are confirmed in the safe.
– Make scrutiny.
– Make the distribution of prizes and seats in the account of each customer.
– Send emails with the achieved awards.
LotoSistema is designed as a high value-added service for customers, but with a very high degree of automation, to reduce structural costs of maintaining the service.